Sacred Mystical Journey to Egypt
A Spiritual Adventure of Self Discovery
April 14-25, 2016
Private Tour in the Kings Chamber and the Sacred Sphinx




Discover Ancient Egypt on a Nile Cruise




Be Inspired in the Sirius Living Light



We will also visit the Temples of Luxor, Abu Simbel, Aswan, Dendera and the
Stepped Pyramid of Sakkara, the Emerald Talbots and much more!
The land of Ancient Egypt holds the imprint of a civilization both spiritually and technologically advanced. Created in meditation, this custom tour provides an amazing vibrational environment for each one to experience a personal adventure into the mystery of your life now unfolding.
This spiritual tour is led by Karen Lovelien and Fred Boshardt. You will discover new insights as we explore the majestic beauty, ancient wisdom and transformative frequencies of Egypt. In creating tours, Karen  & Fred expand beyond current possibilities and use Google Earth to plan the destinations, often locating specific 'Mystery Sites' that are for the highest good of those traveling. The specific purpose of each site is revealed through the group when we connect on each specific site. What unfolds is magical as it is revealed through the group. This tour to Egypt includes three 'Mystery Sites', gifts from the universe that add unexpected adventure to the journey.
Karen & Fred are Source Code Activators of the Sirius Living Light, aligning individuals, large groups & the planet itself to expansive frequencies of clear love for creating life in alignment with your original soul purpose.
Sacred Mystical Journey to Egypt Itinerary:
 Wednesday April 13th – Flight Departure to Cairo
Board your international flight to Cairo to begin your journey exploring the secrets of the rich civilization of ancient Egypt.
Thursday April 14th – Day 1: Cairo
Arrive at Cairo International Airport, where our tour coordinator will assist us with all customs and visa formalities. Transfer by air-conditioned vehicle to Le Meridien Pyramids Hotel in Giza and check in. Afterwards we visit the Giza Plateau to attune to the energies around the pyramids (if time permits due to flight schedules).
Welcome/Get Acquainted Dinner & Overnight at the hotel (D)
Friday April 15th – Day 2: Cairo
After breakfast at our hotel, we will visit the stepped pyramid of Sakkara, built by the high priest, architect, and physician, Imhotep. Sakkara is said to be the oldest known of Egypt's 10
7 pyramids.
We will also visit the newly opened Imhotep Museum, which houses rare and mysterious artifacts from the Old Kingdom capital of Memphis. In the area just outside the Temple you will experience a Sirius Light Meditation, opening to the 12th to 15th dimensional frequencies that originally inspired building of ancient Egypt. These frequencies will guide our steps, opening the door for each one to experience a personal journey of self-discovery. We will then enjoy lunch at a local restaurant. After lunch, a visit to the Dashur and Medun pyramids, followed by a visit to one of the village carpet schools famous for its silken weavings and traditional handicrafts.
Dinner and Overnight at the hotel (B, L, D)
Saturday April 16th – Day 3: Cairo
After breakfast at the hotel we will return to the Giza Plateau. For those that wish to participate, we will come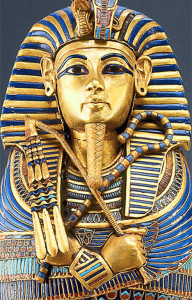 together in meditation, connecting our hearts to the star Sirius B that guided the builders of this sacred site. As we anchor this frequency, we will open to the expanded consciousness this sacred land inspires.
We will then visit the Solar Boat Museum, and enjoy a camel ride in the desert behind the pyramids. We will stop for lunch at a local restaurant and then visit the Egyptian Museum of Antiquities in Cairo, exhibiting over 120,000 objects; it comprises the world's greatest collection of Ancient Egyptian artifacts. Marvel at the many rooms filled with golden treasures extracted from the world-famous tomb of boy king, Tutankhamen.
Dinner and Overnight at the hotel (B, L, D)
Sunday April 17th – Day 4: Cairo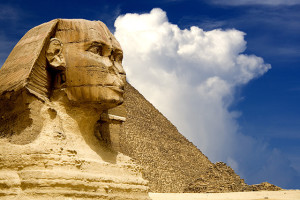 Expect a pre-dawn wake-up call for a special private initiation time inside the crystal clear sound chamber at the top of the Great Pyramid. Feel this chamber resonate as you softly tone with your voice, while traveling into higher dimensions of consciousness. If available, we will spend time in the paws of the Sphinx. We will return to the hotel for breakfast, and then enjoy a free afternoon to explore the Giza plateau.
Dinner and overnight at the hotel (B, D)
Monday April 18th – Day 5: Cairo, Abu Simbel
Plan to checkout of the hotel after breakfast and then transfer to the airport for your flight to Abu Simbel. Upon arrival, we transfer to Hotel Seti Abu Simbel for lunch. As one of the Mystery Sites on our tour, the Temples at Abu Simbel hold wisdom for each of us about living in the world at this time. We will tune into the vibration this site emanates to discover the gifts this site has to offer.
Dinner and Overnight at the hotel (B, L, D)

Tuesday April 19th – Day 6: Abu Simbel, Aswan
Today we will continue to experience Abu Simbel as we visit a UNESCO World Heritage Site, the Great Temple of Ramses II and the temple of his beloved Queen Nefertari. As one of the few ancient Egyptian sites which largely escaped damage by past invaders, the interiors of Abu Simbel's temples are astounding.
We will take an early afternoon flight to Aswan and transfer to the beautiful Hotel Movenpick. In the afternoon enjoy a Felucca ride on the Nile for a view of Kitchener's Island botanical garden and the Agha Khan Mausoleum then back to the hotel for dinner. In the evening there will be an opportunity to travel together in consciousness to a Mystery Site on the west side of the Nile in Aswan. In meditation, we will open for new insights while connecting to this energetic 15th dimensional site.
Dinner and Overnight in Aswan at the Hotel Movenpick (B, D)
Wednesday April 20th – Day 7: Aswan, Nile River Cruise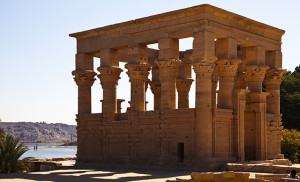 After breakfast you will transfer to your Cruise Ship & have lunch on board ship. Then journey along the Nile, the lifeline of Egyptian civilization, experiencing incredible sights that include ancient temples, tombs, and local villages.
You will see the High Dam, the Granite Quarries with the Unfinished Obelisk and the Temple of Philae. Sail to Kom Ombo where you will visit the unique Ptolemaic Temple, a double temple dedicated to Sobek the crocodile god, and Horus the falcon-headed god. Then we sail to Edfu.
Overnight on board ship (B, L, D)
Thursday April 21st – Day 8: Edfu, Esna, Luxor
Travel by horse-drawn carriage to the Temple of Horus, (237 B.C.) considered the best-preserved temple in Ancient Egypt and the second largest after the Temple of Karnak. Sail to Esna, passing through Esna Lock, and continue sailing towards Luxor.
Overnight on board ship (B, L, D)
Friday April 22nd – Day 9: Luxor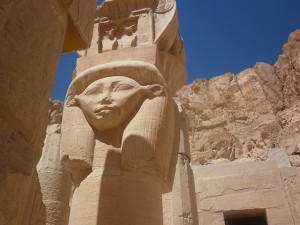 Expect an early wake-up call for our 2 hour drive to Dendera to visit the beautiful Ptolemaic Temple dedicated to Hathor, Goddess of beauty, love, music, and astrology. In her chapel of the New Year, dedicated to the star Sirius, we will see one of the most beautiful depictions of the sky Goddess Nut, the Galactic Mother. Inscriptions at Dendera speak of the original site being built at a time "when the gods walked on Earth", and Dendera housed one of the most important healing centers of ancient Egypt.
We then continue to the Temple of Seti I at Abydos, the "mecca" of ancient
Egypt. This magnificent 19th Dynasty Temple has some of the most exquisite artwork in all of Egypt. The adventure continues on our drive back to Luxor when we will stop at a Mystery Site where the possibility of big life shifts can happen. We will tune into the site and simply allow the blessings to flow.
Overnight on board ship (B, L, D)
Saturday April 23rd – Day 10: Luxor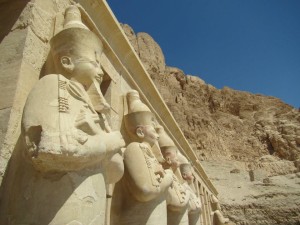 In the morning we will transfer to our hotel, then travel to the West Bank of Luxor, an archaeological paradise and the gateway to the amazing Valley of the Kings and Valley of the Queens. Experience a string of mortuary temples and richly-decorated Tombs of the Nobles, and the Workmen's Village of Deir el-Medineh. After dinner we experience our first glimpse of the beautifully lit Luxor Temple at night.
Overnight at Sheraton Luxor Resort (B, L, D)
 
Sunday April 24th – Day 11: Luxor

Today we visit the majestic temples on the East Bank of the Nile. The Karnak Temple is a vast temple complex dedicated primarily to Amun and dating from as early as 2000 BC. It is an impressive sight, and second only to the Great Pyramids in popularity. Also dedicated to Amun, the Luxor Temple is full of monumental statues, tall walls and ancient carvings. Portions remain of an avenue of sphinxes that once connected it to the Great Temple of Amon at Karnak.
Farewell Dinner and Overnight at hotel (B, L, D)
Monday April 25th – Day 12: Luxor, Cairo
After breakfast, transfer to the Luxor Airport for your flight to Cairo. Upon arrival in Cairo we will transfer by air-conditioned coach to hotel, check-in to an airport hotel. On the morning of April 26th you will transfer to Cairo airport for your flight home.
(B, D) L
HOTEL LIST:   Please note space is requested with deposit
4 Nights accommodations Le Meridian Cairo or similar

1 Night accommodation Seti Hotel Abu Simbel or similar

1 Night accommodations Movenpick Aswan or similar

3 Nights accommodations MS Monaco Nile Cruise or similar

2 Nights accommodation Sheraton Luxor Resort or similar

1 Night accommodation Holiday Inn City Stars Cairo or similar 
TOUR FEATURES:
Accompaniment by an English-speaking Egyptologist throughout the tour

Sightseeing as indicated, including all entrance fees

Touring and transfers by deluxe air-conditioned motor coach

Portage of 1 piece of luggage per person at hotels

Hotel taxes and service charges

Tips to drivers, guides, hotel and restaurant staff

All hotel accommodations (12 nights)

All entrance fees to sites as per inclusions

All ground transportation, cruise, and internal flights (Domestic within Egypt: Cairo/Abu Simbel, Abu Simbel/Aswan, Luxor/Cairo)

32 Meals (12 breakfasts, 8 lunches, 12 dinners)

12 total nights in 4.5-5-star hotels and Nile Cruise ship

1 Private visit to the Pyramids and Sphinx

2 Sound and Light shows at Giza
TOUR DOES *NOT* INCLUDE:
International Airfare

Meals not mentioned above

Extras at hotels

Mineral water, tea, coffee, after meal beverages, personal expenses (i.e laundry, valet service, telephone calls, postage, etc.)

Visas, as this will now be done individually online

Travel Insurance (which, if desired, is available for $350 per person)
---
Egypt Tour Full Price
Paying by cash or check – $4,050

Paying by credit card – $4,222
Single Supplement Rate
Egypt Tour only – $850 add'l

With Sharm El Sheikh Extension – $1,140 add'l
Price includes air and Private initiation time inside Great Pyramid and the paws of the Sphinx. (subject to availability)
Air Sector Cairo-Aswan
Air Sector Aswan-Abu Simbel-Aswan
Air Sector Luxor-Cairo
* 2016 Tour price is guaranteed unless the US $/Euro exchange rate drops 5% or more from the 07/1/15 rates or gasoline goes up over 5% from 06/15 India prices. If required, a fuel or exchange-rate surcharge will be declared in February. This has never exceeded $100 per person.
$500 deposit secures your place on the journey with the balance due 60 days prior to departure.
For reservations call toll free 1 877 756 8763 or book online on this page.
UK booking: Roma Telephone 01305 816644
For Price in Euros or Pounds Sterling, please contact customer service.
We offer travel insurance through the World Travel Center.
If you would like to make a payment towards your tour, call us toll free at +1 (877) 756-8763, or select "Pay Balance" in payment options below.
Please make sure you select the appropriate room accommodations.
ONLINE CREDIT OR DEBIT CARD PAYMENTS:
| | |
| --- | --- |
| Egypt Tour Deposit – $500 |   |
| Egypt Tour Full Price – $4,222 | |
| Egypt Tour Single Supplement Rate – $850 | |
PAY BY CASH OR CHECK:
$4050 tour
Please add the same Single Supplement as Payment with Credit or Debit Card